What is this?
This is documentation of a personal century ride for the UMCA Year-Rounder Challenge. The basic idea is to make at least one 100-mile ride in each month of 2007. It gets me out when it might otherwise be too easy to say "too bad the weather wasn't better this month."
July 7, 2007
Route Overview
Start: 8:20am, Southwest Eugene, OR
Stop: 4:06pm, Southwest Eugene, OR (loop route)
Miles: 101
To Alton Baker Park to join Gears Saturday morning ride. South to 29th and Lorane, then follow Lorane Hwy to its end at Gillespie Corners. Territorial Hwy South to town of Lorane (food stop). Turn West on Siuslaw Hwy, follow to junction with Wolf Creek road. Over Wolf Creek road and down to Terrritorial Hwy. The Gears group headed back to Eugene on Crow Road, and I continued solo after a stop at Crow Store. Vaughan Road to Noti, short highway jog to Poodle Creek road, continue Poodle Creek to Scheiffler, then Butler. Butler has steep rollers and nice views of sailboats scattered about the whole surface of Fern Ridge Reservoir below. Cross Lawrence and continue a bit more rollers, then a steep descent. Short highway jog to Kirk Road coming at Clear Lake Road near the dam of the reservoir. Clear Lake to Fir Butte to Royal to Greenhill, just crossing Greenhill to take the Fern Ridge bicycle path back into town.
This is almost the standard Eugene Gears Blackberry Bramble Century route, although I'm not sure cutting over on Scheiffler from Poodle Creek to Butler is standard. I think the standard route may take Poodle Creek to it's end at Highway 36, and take Lawrence from Hwy 36 to (a shorter segment of) Butler. In any case, I once again found myself a tad shy of 100 as I neared home, so I added a bit by coming back via Friendly Street and a bit more with a couple laps of Lasseter street.
Route map
As gpx (open in some route viewing applications, including GPS Visualizer) or as kml (open in Google Earth).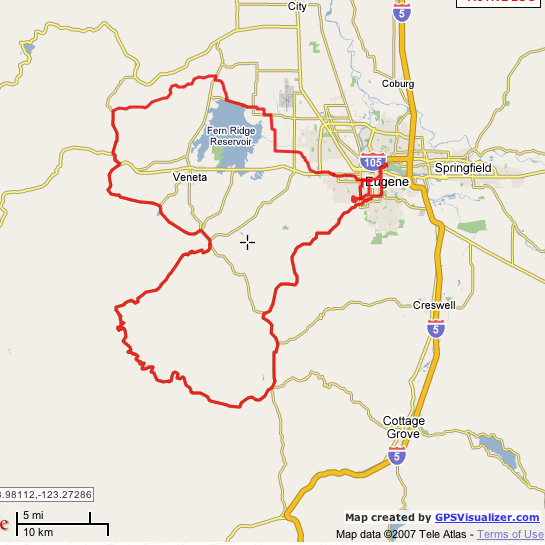 Time/Distance Plot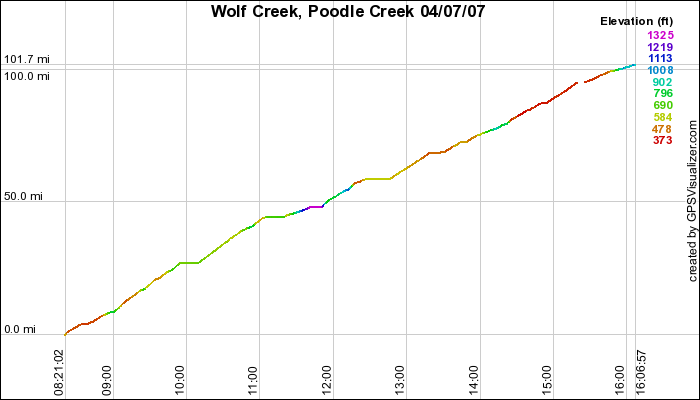 Distance/Elevation Profile